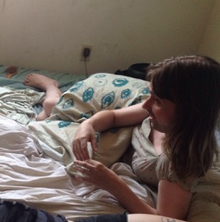 Zephyr Dear is a transgender artist located in the Pacific North West. She is one half the The Wives Dear (an art collective with her wife Nykalily Dear.) She was born in the vague late-80's who's occupations include: Visual Art, Music, Writing, Game Design, Tarot, Witchcraft, and Praising Inanna
Zephyr Dear is a conduit of The Spider Queen, an eldritch being from a spidery pocket dimension known as Spider Church. Zephyr often receives notices and prophetic visions which she then converts into her music and art. Often her work operates as a form of channeling, allowing the spirits which linger to speak up.
She is joined by Lily Dear, her wife and apprentice. Together as mentor and student, they concoct strange new stories & visions to alarm and excite viewers of their work. They release this work under the name SPIDERCHURCH as a personal Collective/Cult/Brand
Music:

(as Mine Now Forever) Edit
-You Will Be Adored. You Have No Choice (2019)
-Only Use This Power For Good, Never For Evil (2019)
-Tuesday on a Sunday (2019)
-Wanting Is Good Actually (2019)
(as Genderware) Edit
-Guide Dot Elm Dash Lang Dot Org (2019)
(as Trump2020) Edit
-Pee Pee Poo Poo Man (2019)
(as forgotten miracle) Edit
-The Fine Art of Pallbearing (2016)
-Understanding Of Last Resort (2016)
-A Hot Wind Out Of Hell (2016)
-Impromptu Sermons (2016)
-Total Personality Change (2016)
(as Arachnology) Edit
-Pareidola Experiments (2016)
-Crack Pairings by Evil Reliever x Evil (Live) (2016)
-Game, Set, Match (2016)
-So Much For All That Nonsense (2016)
-Done With Your Workings Yet, Universe? (2016)
(as Star Fuel) Edit
-Spider Eggs (2016)
(as Transcendence Transfusion) Edit
-My Turn In Sea​-​Witch (2016)
(feat in nestbuilding) Edit
-b'itch (2019)
Games:

-Why We Gay (2016)
-Who's The Witch Now (2016)
-TRANS CANYON (2016)
Video Art:

Community content is available under
CC-BY-SA
unless otherwise noted.